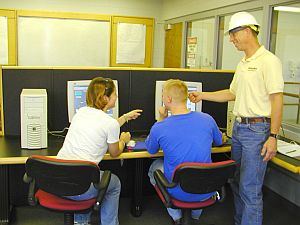 One major component of the Chemical Engineering curriculum at Michigan Tech is the capstone design experience completed during the student's senior year. The capstone design experience includes completing a 6-credit, 2-semester class sequence that uses a series of both team and individual design problems. These problems require students to utilize material taught in the sophomore and junior chemical engineering courses as well as incorporating engineering economics, safety, and environmental topics covered in their senior classes.
The capstone design experience involves completing the following CM classes your senior year:
Fall Semester:
CM 4855 - CM Process Analysis & Design I
Technical and economic evaluation of chemical processes and operations. Applies material and energy balances, flowsheets, energy utilization, and optimization to process systems. Requires use of cost estimating and economic evaluation techniques. The optimization project requires a series of memoranda progress reports, a formal final report, and an oral presentation.
Credits: 3.0
Lec-Rec-Lab: (2-0-3)
Semesters Offered: Fall
Pre-Requisite(s): CM 3120 and CM 3230 and CM 3410


Spring Semester:
CM 4860 - CM Process Analysis & Design 2
Applies technical and economical techniques to the development of a chemical process into an optimized design. Uses process synthesis techniques and market research to develop a conceptual design for a proposed new venture. The AIChE National Design Problem is required of each student as a capstone experience.
Credits: 2.0
Lec-Rec-Lab: (2-0-0)
Semesters Offered: Spring
Pre-Requisite(s): CM 4855
Design Lab (min 1 credit) – Student's choice, see below
CM 4861 - CM Design Laboratory 2
Discusses open-ended problems in chemical engineering design.
Credits: 1.0
Lec-Rec-Lab: (0-0-3)
Semesters Offered: Spring
Pre-Requisite(s): CM 4860(C)
Spring Semester Design Lab Options
The Chemical Engineering Department offers several choices to our students for completing their senior design experience. Students must choose one of the following options for completing their final credit of design lab:
* Students interested in choosing this option must first receive departmental approval. Contact your academic advisor for more information.